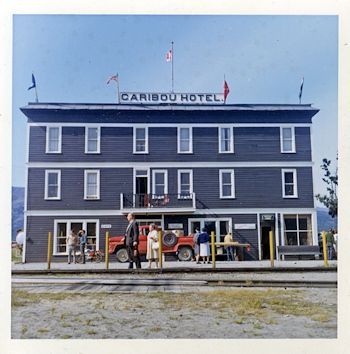 Caribou Hotel 1965

The Caribou Hotel, located in Carcross, Yukon is a Designated Yukon Historic Site that is over 100 years old.
The hotel was purchased by Anne Morgan and Jamie Toole in 2006 and a rehabilitation of the building is presently underway.
We plan to re-open as a boutique hotel with 4 cabins, 11 Guest Rooms, a restaurant and saloon.
Originally built at Bennett, B.C. in 1898 at the start of the Klondike Gold Rush, it was then called the Yukon Hotel and was located near Friedrich Trump's New Arctic Restaurant and Hotel (Donald Trump's grandfather). Following the gold rush the building was floated down Lake Bennett to Carcross and renamed the Anderson Hotel.
Dawson Charlie, co-discoverer of the Klondike Gold Rush, purchased the hotel in 1903 and renamed it the Caribou Hotel. Following his death in 1908, Edwin and Bessie Gideon operated it until it burned down and a new building opened in 1910.
Bessie died in 1933 and the hotel has been haunted by her ghost ever since—a spirit who enjoys slamming doors & creaking floors; putting bubbles in bathtubs; knocking on floorboards and looking out windows.
The Caribou was home to a number of famous characters including Polly the Parrot—who resided at the hotel from 1918 until his death in 1972, and was known for singing opera, drinking whiskey and cursing.
The Caribou Hotel will continue to house one of Yukon's longest continuously operating food and beverage businesses and a local parrot!